Click on Picture to view ADGA pedigree
Goldthwaite Wizard of Oz *B
DOB: 1/6/07      N1406352
                 SS:  SGCH ++B Dear-Heart's "OMAR"
 S:  SG +*B Goldthwaite Merlin
                 SD:  SGCH Goldthwaite Lady Juliette 7*M
                 DS:  SGCH ++B Dear-Heart's "OMAR"
 D:  SGCH Goldthwaite Talapoosa 7*M
                 DD:  SGCH Goldthwaite Midnitn Montgomery 6*M
      Oz is a extremely long buck with a very correct topline and amazing breed character, which has passed on to all of his offspring.  He is also a very tall and upstanding buck.  Oz has incredible flatness and openess of ribbing.  His dam had supreme milking ability and an amazing udder.  Daughters in our herd include Laurel Oaks Little Lulu who recieved her first RJCH at the 2009 National Peanut Festival and Laurel Oak Diamond Solitaire.  We are excited what Oz has to offer to our herd.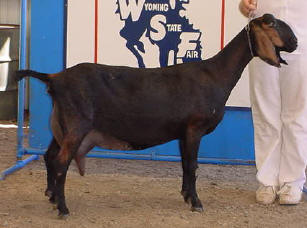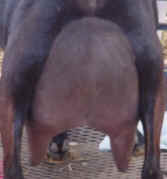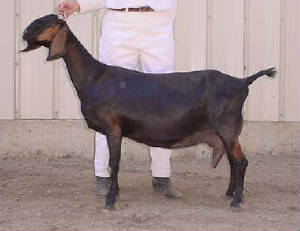 Oz's Dam:  SGCH Goldthwaite Talapoosa 7*M
LA91 EVEE HES 92.7/91 mammary
Goldthwaite Enchanted Prince *B
DOB: 3/20/08      N1456049
                 SS:  Goldthwaite Blue Ridge
 S:  Golthwaite Bootonniere *B LA 90/VEE 1-07
                 SD:  Goldthwaite Mayaloka
                 DS:  SG +*B Goldthwaite Merlin 
 D:  SG Goldthwaite Enchanted 9*M LA 91/EEEE
              DD:  SGCH Goldthwaite Jewels 9*M
                                       Prince's Dam: SG Goldthwaite Enchanted                 Grand Dam:  SGCH Goldthwaite Jewels 9*M
                                                           N1375759 LA 91 EEEE                                                       N1297165 LA 91/EVEE